Who Said You Can't Have It All?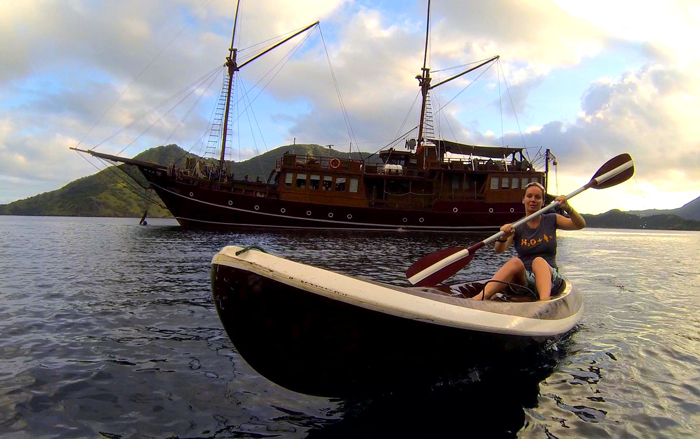 Whoever said, "you can't have it all" obviously had never been onboard the Arenui boutique liveaboard in Indonesia. This one of a kind vessel decadently pairs luxury with underwater adventure.
I am blessed to have amassed over 5,000 dives around the globe, so I can honestly say that I am an experienced, well-traveled scuba diver.  I typically know what to expect from a liveaboard dive trip.  When I signed up to spend 12 days aboard the Arenui, to dive and explore in and around Komodo National Park, I anticipated an unparalleled experience.  But the actual trip exceeded even my wildest expectations.
Our journey started with our arrival in Bali.  As I was stepping off our flight, from Los Angeles, the humidity embraced me immediately.  It felt as if Asia was welcoming me back.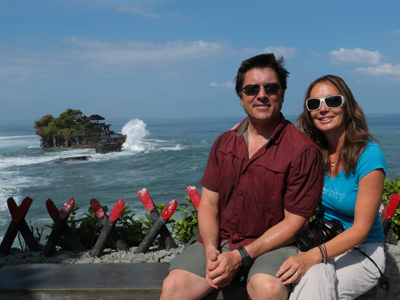 We opted to arrive two days earlier than our boat's departure date to allow ourselves to adjust to the local time zone and explore Bali.  We hired a local driver who took us to the local markets as well as several scenic temples along the way.  The picturesque Tanah Lot Temple was my absolute favorite.  It is magical how it endures the constant crashing of waves as it stands stoically in the ocean.
We passed by lush green rice paddy fields, sampled the local flavors at the market and of course browsed for hours in chaotic bazaars in search of delicately hand carved wooden souvenirs.
When it was finally time to board the Arenui, our temporary home for the next twelve days, we were in awe of the magnificent 43 meter (141 feet) wooden boat.  The first thing that struck me was the harmonious combination of local craftsmanship, enchanting antiques and a variety of recycled woods which compose this great sailing vessel.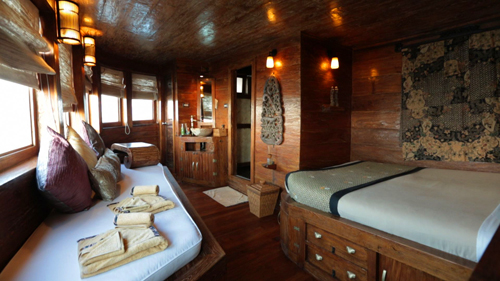 Each guest room is designed and furnished to represent a different province of Indonesia.  To do this, the owners tapped into their own art collection that they have curated while traveling around the country over the years.  By facilitating one of a kind fossilized sinks, exceptional antique carvings and traditional elements of Indonesian lifestyle, each room is embellished with it's own unique personality.
Every little detail on this stunning vessel adds up to perfection.  Attention has been given to every aspect of the boat and quarters.  This ensures that guests will enjoy a unique dive holiday, filled with activities, amidst a five star hotel environment.  A king-size bed, or roomy singles, in each cabin provides both a level of comfort and spaciousness that I had never experienced on a dive boat.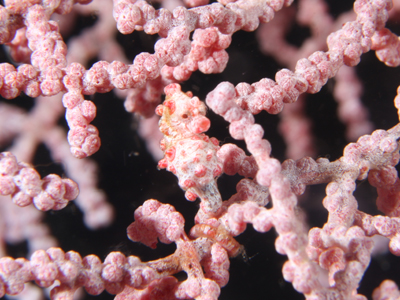 The Arenui is been designed to host a maximum of 16 passengers with a crew of 22.  Additionally, there are two Western cruise directors that coordinate with the five dive guides.   Collectively they are incredible when it comes to pointing out some of the most camouflaged creatures in the ocean.  I would have missed out on so much sea life if it had not been for them, simply because I did not know where to look, nor what to look for.
Indonesia lies in the heart of a triangle of biodiversity.  Whether you fancy muck diving, want to see schools of manta rays or to photograph pigmy sea horses, you'll find it all here.
The Arenui's dive destinations change with the seasons. The vessel visits some of Indonesia's top dive spots when they are at their optimal best.  The itinerary includes Komodo, Raja Ampat, Alor, and Maluku among its likely destinations.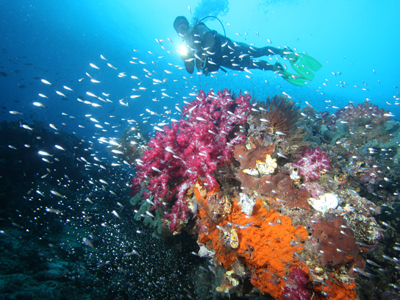 We chose the Grand Komodo route, because my husband Hilaire (and favorite dive buddy) wanted to see mantas, while I personally love exploring muck diving spots for unusual critters.  And of course there are the Komodo Dragons that are a must see!
A typical morning started with a light breakfast at 6am before our first submersion. Each day we had the option to participate in three to four dives, each lasting 60-70 minutes, with interspersed hearty and healthy meals in between to fuel up and re-energize.
Our dive itinerary represented the best of all types of diving, including drift diving on shallow reefs, visiting cleaning stations, pinnacle islands, muck diving and of course night diving to find those awe-inspiring creatures poking out from their holes.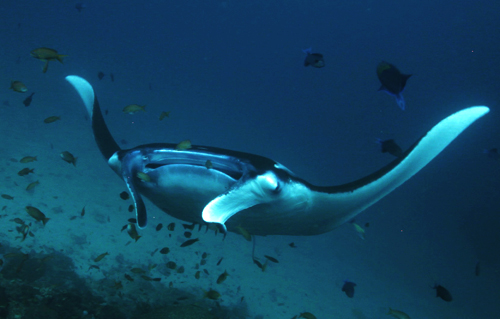 The vast array of colorful reefs crowded with fish and nudibranches were truly astonishing.   As we drifted by the eclectic scenery, often felt that I was looking at one of Mother Nature's more notable effervescent art projects.  It was as if I were scuba diving through an elaborately textured temple in an ancient world.
Some of the most exhilarating dives for me were the up-close interactions we had with the oceanic and the black mantas at Manta Alley.  As much as I enjoy muck diving, it was the best part of the trip.  It was ominous to watch the mantas, with their 8-12 foot wing span, soar around us.  It seemed like they were just as interested in us, as we were with them.
They circled gracefully around us and performed fly-bys so close that you could reach and touch them (but none of that now!).  At first,the sheer size of them intimidated me. As I was swimming at the surface in just my bathing suit, with just a GoPro in my hand, I felt vulnerable as they were swimming towards me at the feeding station.  Seemingly they seemed unbothered by my presence and simply would glide past me like the flying carpets in the story of Aladdin.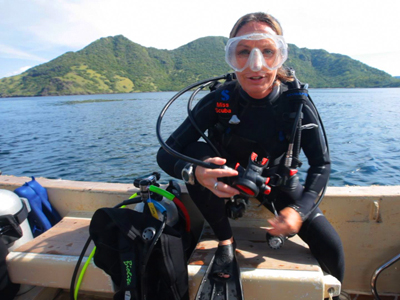 Aside from scuba diving, the Arenui provided a great platform for other activities as well.  Some days after the dives I opted for a refreshing swim over the unspoiled coral reefs. Other times I would kayak during sunset so to admire the ever-changing topography of the islands around us.  These tranquil excursions allowed me truly appreciate the secluded beauty and Zen of this remote paradise.
Komodo has been classified as a World Heritage Site and as an UNESCO "Man and Biosphere Reserve", so it is preserved to maintain its natural biodiversity and avoid overt commercial development.
The Komodo dragon, its chief resident, is the largest living species of lizard on the planet.  It can grow up to 10 feet and weigh up to 150 lbs.  As a result of their size, the Komodo dragon dominates the ecosystem in which they live in.  We encountered Komodo dragons on several occasions. Those days I did not swim much ;-)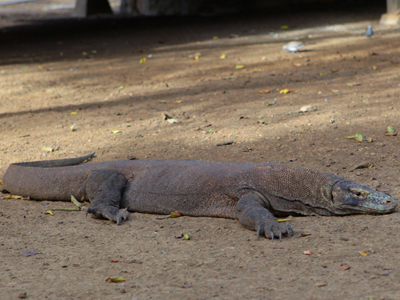 They are lazy and opportunistic when it comes to hunting. The dragons sneak up on their prey, knock them down, and then bite them and wait.  Their saliva is extremely poisonous, so they just have to be patient until it enters the victim's bloodstream and incapacitates them. 
At times, when we spotted the Komodo dragons sunbathing by the edge of the water, our crew members would offer us a boat ride to get up close so we could take a look.  This way we could get in tight and capture detailed pictures of these fascinating creatures, and avoid their wrath.
The service onboard the Arenui is on par with a luxury hotel.  The boat has a seamless routine where it seemed that our rooms magically tidied up while we were out diving and elaborate meals were constantly materializing in the restaurant throughout the day.   Meanwhile our wetsuits and gear were always cleaned and hung to await us the next morning, dry and smelling fresh for another day of adventure.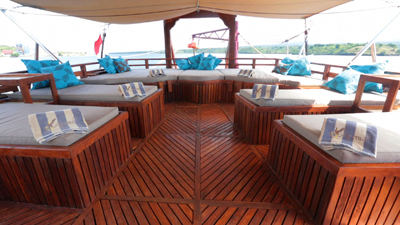 Arenui believes that, even when sailing around remote islands, there is no reason to forego fine dining.  The variety of the gourmet food prepared by the chefs was incredibly impressive, not to mention plentiful.  With five freshly prepared meals a day, I felt energized and ready for adventure.  I was surprised that with all the delicious food I ate while aboard, I did not put on any weight.  I guess the kayaking, swimming, and diving burned all the calories I acquired from indulging in the skillfully prepared culinary.  Now, that's my kind of vacation!
The crew strived to make every guest's wish come true.  Whether I was looking for guidance in finding a rare underwater creature for a photo-op, a relaxing oil massage or an Italian style cappuccino; I was never told that any whim or desire was impossible.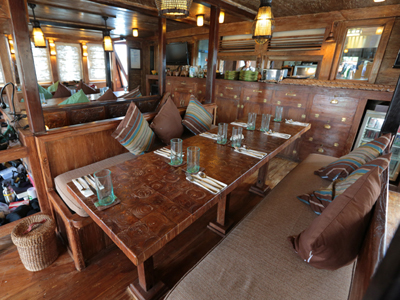 The crew makes your scuba diving effortless so that you can maximize your adventure. Guests never have to worry about rinsing or swapping out tanks between dives.  Not to mention that the crew took my dive gear to and from the tenders.  Thus leaving me with only having to carry my mask and slip on my BCD when it was time to hit the water. This extravagance allowed me to spend my down time lounging upstairs on the spacious sky deck.   Here I would catch up on books and magazines, or just soak up the scenery of the lush islands we sailed by.
As much as I was looking forward to "unplug" from the rest of the hectic world, I was delighted to discover that we had Internet connection throughout most of our voyage.  This enabled me to send out the occasional photo on Facebook and stay in touch with my family back home.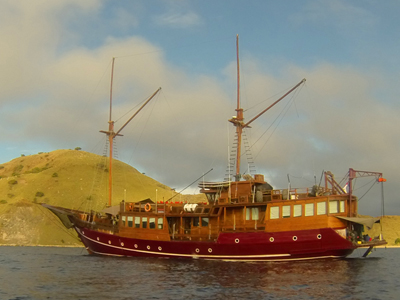 The proof is in the pudding that this is by far one of the most luxurious and accommodating dive vessels in the world. Even though they say that they have a 33% return rate, my husband and I were surprised to find out that over half the guests onboard with us had been on an Arenui trip previously. And some of them had already booked their next trips for 2014 & 2015!  Our dive buddy Tracy, who was on her second voyage on the Arenui, told us, "After experiencing the level of service on the Arenui, it is really hard to go on any other boat". 
So get off the couch and check out this with luxurious liveaboard.  Space is limited, but it is so worth it!
To find out what itinerary works best for you, or to book your adventure, visit www.thearenui.com