The Greatest South Africa Adventure You Can Imagine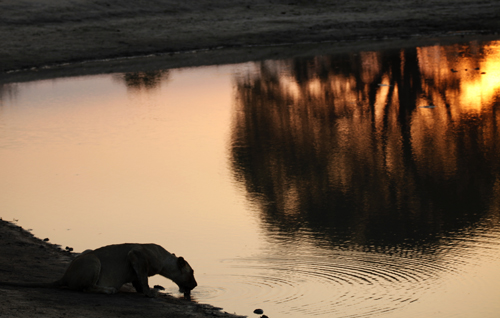 Buckle Up! I am about to usher you through some of the most exciting destinations in South Africa.  If you are keen on taking an adventure to a country that is cutting edge and offers an untamed wilderness, then this is the place for you.
Growing up I read so many books on South Africa and was mesmerized by the stories and pictures that captured its wildlife and rugged terrain.  The authors of these stories were living the life I yearned for.
Africa Tour is the leader in travel booking throughout this region.  Their providers offer you everything from shark diving, to wine tasting, to safaris.  They were kind enough to host us on an adventure of a lifetime.
Our journey began in Umkomaas, along Aliwal Shoal, a scuba mecca that draws not only the international traveler, but also the local weekend diver.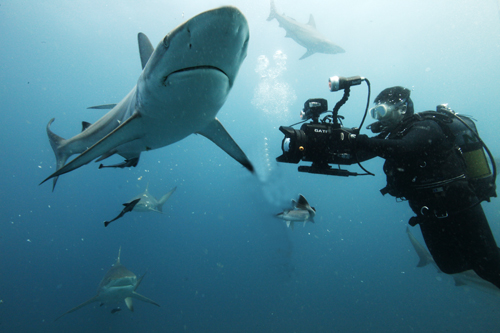 During our first dive with Blue Vision Dive Center we hung out around the Cathedral, an offshore rocky reef with coral, with approximately ten Ragged Tooth Sharks (also called Sand Tigers).  Although they look incredibly spooky, these sharks are very docile.  I spent several minutes searching the sand and collected a handful of fallen teeth to create necklaces upon my return for memories and scuba diving related shark jewelry.
The baited shark dive in the afternoon was off the hook!  Tyler, our divemaster, bare handedly fed fish to Black Tip Oceanic and Dusky Sharks from an old washing machine tub that was suspended by a rope.  He wore no gloves, no hood, not even boots!  I was convinced that he was either crazy or he was a "Shark Whisperer".  He ended the one hour dive with not a scratch on his body.  Tyler maneuvered between the sharks elegantly and directed them my way for perfect photo ops.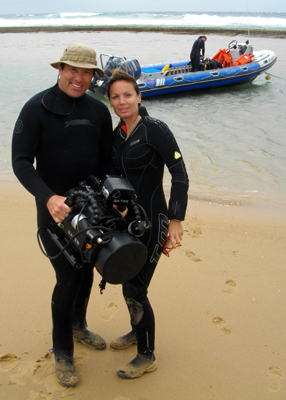 I have to tip my hat to South African scuba divers!  I thought California and U.K. divers were hardcore, but diving in cold waters from big comfortable boats is nothing like riding the rubber duckies (zodiacs) through the crashing surf.  It is not for the diver who demands luxurious boats offering hot chocolate.  But it surely was a ton of fun!  Every dive was a true laughter filled adventure.  The locals proved to be not only great divers, but also super friendly and helpful. 
The following day was a different type of adrenalin rush.  As the wind picked up, the waves grew to 8-12 ft. and the swell was 20-30 ft.  To be honest, it was borderline intimidating and quite scary.  We wore orange life vests for our beach launch on the zodiac.  Our skipper read the waves like a scholar and timed our launch through the surf perfectly.  The crossing through the surf zone became a joy ride after the initial shock.  People were screaming and jumping (mostly me) while trying to hold onto the camera gear and tanks.   I ended up wearing my mask for the 10-minute ride to the dive spot; otherwise I would not have seen anything with the seawater crashing into my face.
Upon diving underwater our surroundings became serene and I became entranced with the sound of whales singing off in the distance.  On this dive we swam over purple and pink hydro coral covered reefs.  It looked like a colorful spring flower field.  A giant marble ray swam around us for a while posing for our cameras.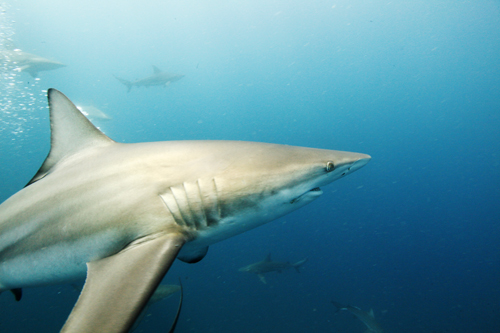 Our next stop, Protea Banks, was about as "on the edge" as it gets for a scuba diver.  Once again, heart-pumping rides on the local zodiacs took us out to see a variety of sharks just outside of Shelly Beach.  As we headed out in the morning our black wet suits absorbed the morning sun, thus banking warmth for our 100 ft., hour-long dive in the 70 degree Fahrenheit (21 C) water.  
This stretch of the Indian Ocean has become a world-renowned scuba diving haven for shark-lovers.  Protea Banks is the place for blue water divers.  You have to keep your eyes open and constantly scan the waters 360 degrees. If you do, you will spot a wide variety of sharks including Hammerheads, Duskies, Tigers and Black Tips.  During our dives there we once again were entertained by whales singing.  It was that time of the year (October) when it happens on almost every dive.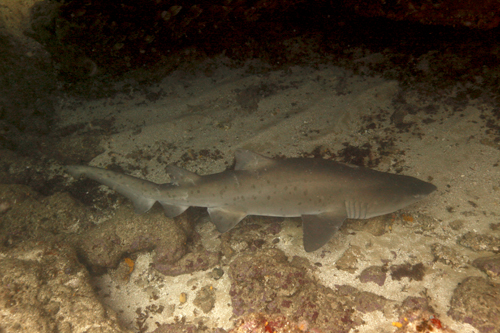 During our surface intervals we learned some intriguing facts about sharks from our host Roland Mauz.  While most sharks have to constantly move, so as to breathe, Sand Tigers can stay still for long periods.  They have a unique swim bladder they use to control their buoyancy and they occasionally come to surface for air.  Also, Sand Tigers are cannibals.  The embryos eat each other in their mum's belly until there is only one left and gets to be born.
Roland spent hours telling us stories about shark diving and the fishing industry in Protea.  I have met several shark advocates, but he was more sincere and loving than most, partucularly in the manner he spoke about his sharks.  Most fishermen in Protea do not hunt sharks because they take too long to catch (2-3 hours compared to 15 minutes for a tuna) and because their mercury level is so high, the fisherman have no interest in catching them.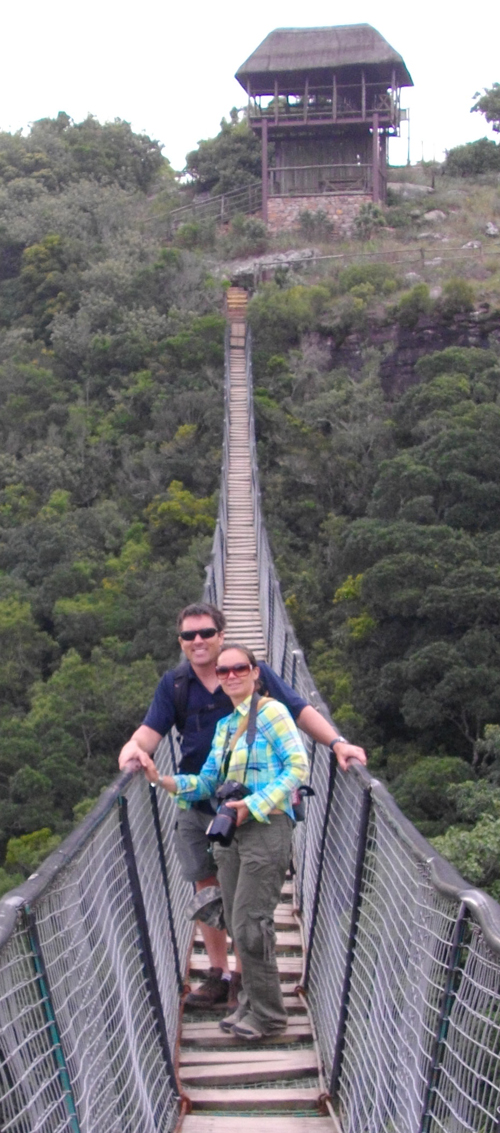 One afternoon the weather was too windy to dive, so we borrowed a car and explored the surrounding neighborhood.  No trip would be complete without a visit to the swinging bridge in Oribi Gorge.  Here you have unparalleled views of the valley bellow, as well as a bridge crossing that will have you feeling like you are in an Indiana Jones movie.
As we headed to our next destination, we stopped for a river cruise en route.  The St Lucia River Cruise provides a tranquil atmosphere where you can leisurely take in exotic birds, crocodiles and pods of hippos. It is a photographers dream.
We lucked out by missing the afternoon cruise and ended up on the saltwater river just as the sun was setting.  The lighting was perfect and all the animals were just waking up from their afternoon naps.  The 60 km long saltwater river is home of 433 indigenous creatures, 2,000 crocodiles, 800 hippos and number of bull sharks.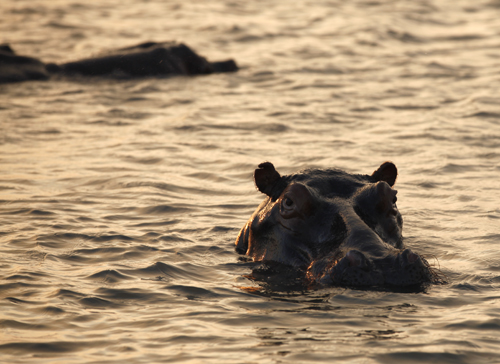 Hippos are vegetarian, yet they are considered by many experts to be the most deadly creature in Africa (not counting the mosquito).  However they did not seem to be aggressive to me from afar.  I was fascinated to learn that in each pod there is only one male, while the rest are all females and babies.  Hippos can't swim in deep waters.  So they take a deep breath, sink down to the bottom and walk, often for up to three minutes!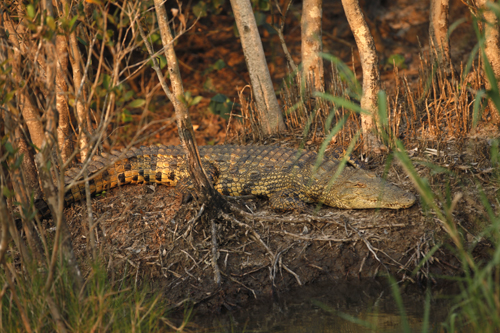 Crocodiles are constantly eating and piling on fat. Because of this they can go without eating for 12 months.  They apparently have a super slow metabolism.  As they are carnivorous, they have very strong jaws that can crack a turtle shell.  Crocodiles have between 64 and 70 teeth and cyclethrough new ones about 44 times over their lifetime.  I was pretty content being a spectator and had absolutely no desire to jump in the water and go swimming with them.
Once the sun completely set we docked and continued our journey to Sodwana Bay. This marine protected world heritage site offers a wide variety of diving to the world traveler.  Here we had an abundance of reefs to explore as well as dolphins, turtles and whales to observe.

The beach launches with the zodiacs were not any easier here than at our previous stops.  But by now we were getting used to catapulting through the surf zone while wearing our life preservers and hooking our feet to the ropes in the bottom of the "rubber ducky" while holding the camera with one hand and gripping the boat with the other.   One thing I learned for sure is that South Africa diving is not for sissies!
As our captain guided us to our first dive spotwe spotted a pod of frolicking dolphins.  I have never seen a group of divers don their masks, fins and cameras as quickly as our team of eight did.  As we approached the pod, the boat slowed down while the divers rolled back into the water.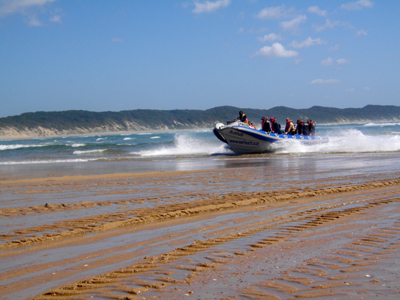 The 10 dolphins spinning around us were in a playful mood and seemingly posed for photos.  The visibility was not great as the water was a murky green, but I still got some great action photos of them.  The few minutes we spent with the dolphins were truly thrilling. They seemed to love it when my videographer Hilaire imitated the noise they made and examined him and his gear with great interest.  Dolphins are very vocal and make use of their assorted whistles, squawks and bubble trains.
The dolphin has the largest non-human mammal brain, which is larger than an elephant's!  Each one we interacted with had its own personality. Some were friendlier while others stayed back and examined us from afar.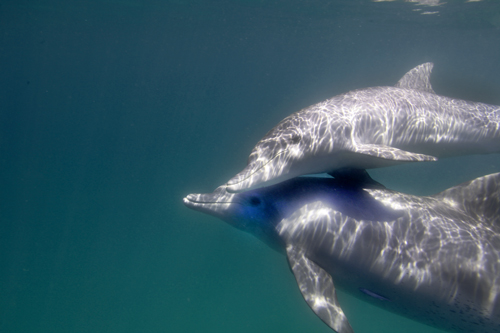 Just as we all climbed back at the zodiac and took our fins off, the divemaster noticed a cruising whale shark a short distance away.  We immediately geared up again and returned to the water.  Unfortunately I could not get a good picture.  At first I was just too excited and by the time I composed myself and white balanced the camera, the whale shark dove deep down and was gone.  However, I have a vivid memory embedded in my mind of the double-decker bus sized, white spotted beauty. 
Being in the ocean in the presence of a whale shark was an unforgettable encounter.  Mark White, the owner of Sodwana Bay Lodge Scuba Center did an amazing job to get us up-close to the largest fish in the sea. Although massive, whale sharks are docile fish.  They mostly eat planktons; filtering them along with any small fish that happen to be around while swimming close to the water's surface.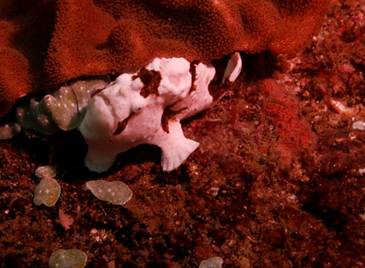 The reefs at Sodwana are considered to be the southern-most coral reefs in the world.  The dive sites in Sodwana Bay were named in accordance to their distance from the launch area - from Quarter Mile to Nine Mile Reef.
We found (well, the divemaster found it and pointed it out to us) some incredibly cool looking Leaf and Frog Fish as we swam by overhangs, rocky outcrops and swim troughs.  Not to mention the biggest orange nudibranch I have ever seen.  Everything in South Africa seems oversized compared to the rest of the world when it comes to underwater critters.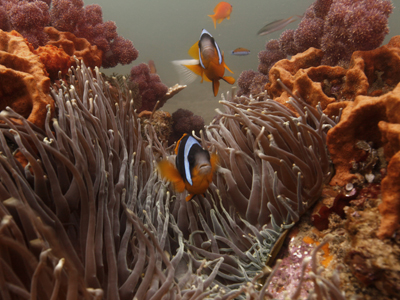 For some reason I anticipated warmer waters in South Africa.  The average water temperature was 70 F / 21 C while we were there (October).  Good thing I brought my 7mm wet suit and threw my hood and gloves in my dive bag.
The following dive day I spent ten minutes photographing a turtle that was too busy eating to notice me.  Later, the little Nemo fish (clown fish) were super annoyed with me, but that did not come as a shock. They behave like that around the world, protecting their homes in the anemones. I found it cute and humorous.  And after I got some close-ups I left them alone.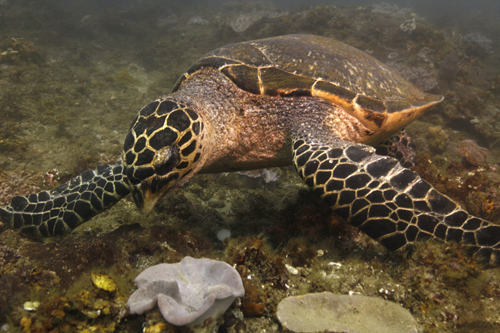 All the South Africans we interacted with were superb people that were open minded and very kind.  Most of our fellow divers were locals and excited to show us the highlights of their country beneath the sea.  I have never encountered more hospitable people.  It was a real pleasure making new dive buddies during our travels.
Rocktail Bay, our next stop, was exactly what I always pictured when I imagined myself in Africa.  It was a 35-minute drive in a four-wheeler from the nearest highway, through forests and the burned orange terrain surrounding the lodger.  Riding in the back seat of our open jeep felt like we were driving right off the map.  Just when I was going to ask for the tenth time, "Are we there yet?", our driver announced our arrival.  
Rocktail Bay Lodge is tucked into the jungle and sandwiched between the sand dunes.  The lodge felt very private. There were miles of beach with no buildings in site.  Tent-like houses were built into a hillside amongst a plethora of tall trees.  We woke each morning to glimpse at a bird's eye view of the jungle below and the never ending Indian Ocean in the horizon.
The interior has a shabby chic look to it – rustic, yet elegant.  The olive green soft shell building provided everything you need to relax.  The shower, integrated into the tent's balcony, gave me the feeling of being outside with an unparalleled wildlife view.  As the hot water was rinsing the salt and sand out of my hair, I was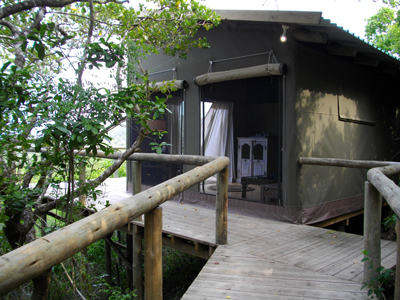 mesmerized by a monkey passing through our terrace.  Taking a shower in the tree house with a perfect glimpse of the coastline was thrilling and in a way liberating.
As I was drying off after the shower on the veranda of our honeymoon suite I was sipping a French press café.  I was just thinking how perfect the moment was when a baby deer hopped by.  Her burnt orange hair and the fuzzy white little pom-pom tail made me think of Bambi.  I stole glimpses of her several other times again during our stay and felt like I was living in a fairy tale.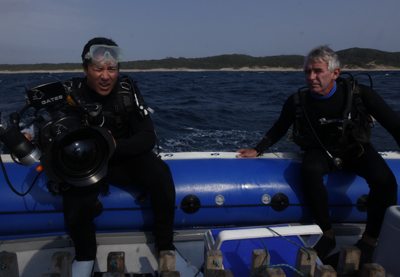 I was excited to discover that there were no phones, TV's or Internet connections on the premises.  It allowed me to awaken my senses that have not been fully utilized since I became a city girl.  I found myself lost in the music the monkeys, bugs and occasional thunderstorms.
Here we dove with Mokarran Dive Charters, the only dive center that was permitted to dive the local reefs.  Each morning we would drive down along the water's edge on the beach for ten minutes in a tractor pulling our zodiac.  Once Darryl Smith, our dive guru, decided on a spot we hopped out and got ready for another choppy launch through the surf zone.  By now I got quite used to the routine and enjoyed the rodeo-like adrenalin-pumping ride.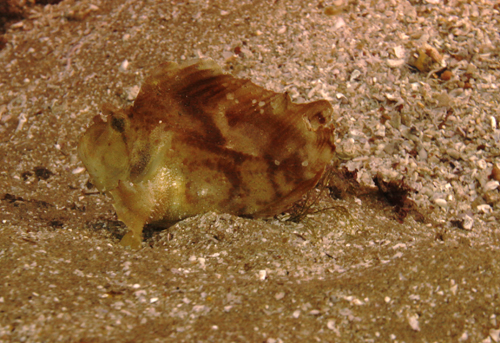 The beaches we launched from were so secluded we only saw an occasional hiker each day.  Because of this, the reefs are blossoming with spectacular diversity of marine life, unscathed by human existence.  Most creatures we encountered were not intimidated by our presence and patiently posed for pictures.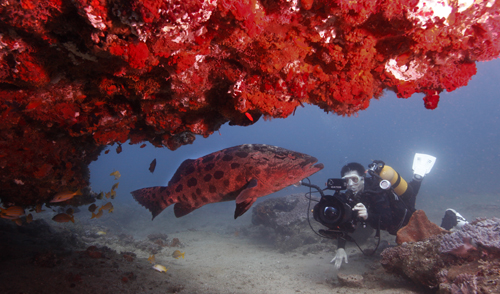 During our first dive we saw something I never spotted before; a blade fish.  It looked like a stepchild of a paper fish and a frogfish.  Each dive I would simply follow Darryl along and photographed one cool creature after the next as he pointed them out.  I was playing more with my strobes and Canon 5D Mark II and got a really nice shot of Hilaire Brosio videoing a giant potato bass under a coral covered over-hang.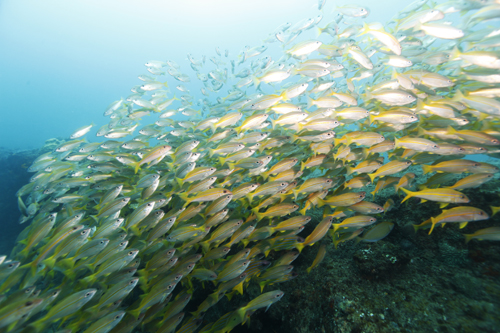 We spent almost twenty minutes playing with the schooling yellow fish.  There were literally thousands of them and at times the school was so thick I couldn't even see my dive buddies.  I have to say, Rocktail Bay was the best scuba diving experience we had in South Africa!  And Darryl was one of the most knowledgeable seamen I met in South Africa and has a compassionate sensibility to match.

After two weeks of scuba diving up and down the east coast of South Africa, it was finally time for our first safari.  I was looking forward to diving on this continent, but anticipated interacting with the wildlife on land even more.  So we took a 5 hour drive to Ubizane (Place of Calling).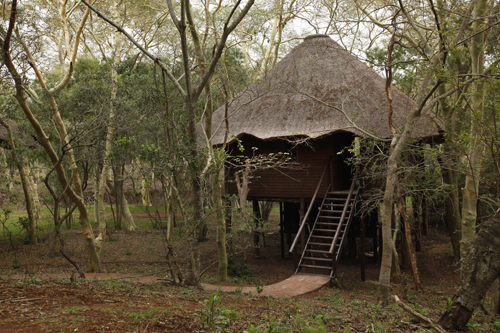 We stayed at the Zulu Land Tree Lodge that offered an understated elegance and unparalleled views of the jungle surrounding the reserve.  The accommodations are actually set up in stilt houses giving you the feeling that you are sleeping in the trees. The best part is that you can lie in the bed and follow the zebra and giraffes as they are feeding on the trees in the morning.
The first thing we did upon arising was to visit the Hluhluwe-Imfolozi Park where we began our quest to see "The Big Five".  The big five is a term for five of the most popular and dangerous animals in Africa.  They are composed of the African elephant, the black rhinoceros, the cape buffalo, the lion and the leopard.  The Hluhluwe-Imfolozi Park is the oldest game reserve in Africa and it was established in 1895.
We entered the park aboard a 4X4 game viewing vehicle that allowed us a great vantage point to observe our surroundings as that the vehicles are high up and open air.  So they are great for taking photos and video.  Upon entering the park we stumbled upon a number of wild boars that squealed and ran into the bush.  But we were told not to be fooled by their squealing for they can be extremely dangerous if you surprise them while you are on foot.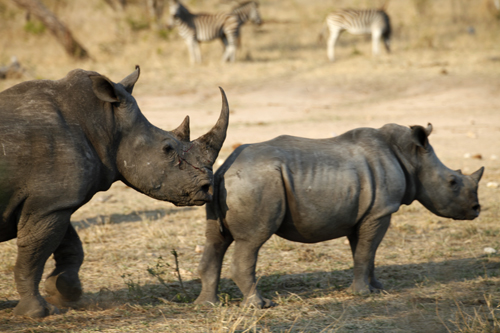 We also found a black rhinoceros and with her calf that decided to block the road for a bit.  But this didn't bother me because this gave me the opportunity to get some great photos of the first of my big five.  Another treat was when our guide spotted a cheetah with two cubs way off in the distance.  The cubs were rolling around mom and so engaged with each other that they never noticed us.  Our guide informed us that we were very fortunate because he had only seen them twice in the last year.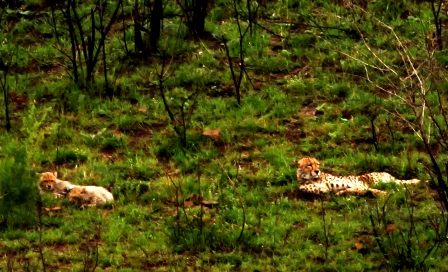 And as the sun set and the wonderful wild creatures inhabiting this diverse ecosystem faded into total darkness, we back to the Zulu Land Tree Lodge and settled into the restaurant for dinner.  Even though we were the only guests on the property that night, the buffet table was covered with enough delightful delicacies to feed a small village.  
In the candle lit dining area we were greeted with a glass of red wine and after a brief chat with our chef we were seated by the fireplace.  It turned out to be one of the most romantic and delicious dinners of my life.
Starters included mushroom and rosemary soup, freshly made bread sticks, puff pastry tarts with balsamic vinegar, onion and apple.  I am a sucker for bread, so I had to restrain myself from filling up before the main dinner even started.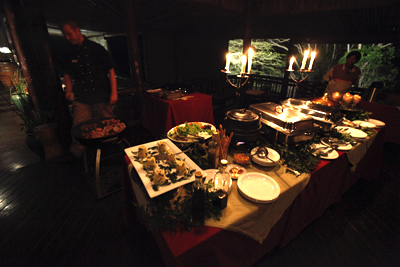 Though I seldom eat meat, I indulged in the gourmet beef, apricot & peach goulash with rooibos and vegetables.  My mouth became a melting pot for the distinctive yet complementary flavors.
Next, I tried the local delicacy, chicken breast stuffed with zebra biltong and cream cheese.  Before I took the first bite, I expected something chewy and gamey.  Though the texture of zebra meat was a bit tougher than chicken, its flavor was surprisingly good. This was paired with rice that was garnished with toasted coconut and raisins which was divine.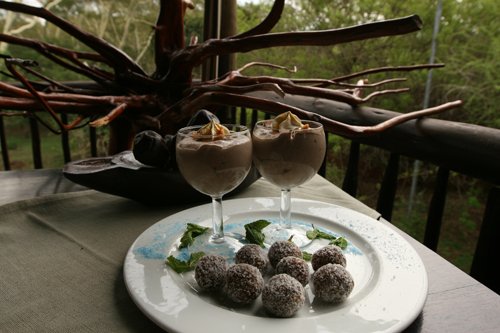 By the time the desserts arrived I felt like we were the queen and king of Ubizane because of all the attention we received from the staff. They enthusiastically shared cooking tricks and insights on the seasonal vegetables while they kept refilling our wine glasses.  I could not decide if I liked the brandy tart with spiced cream or the peppermint crisp more. Both were fantastic and decadent in the best way.  
After a good night sleep we explored the magnificent outdoors during a three hour Ubizane game drive around the reserve. This natural paradise is sprawled across 1,200 hectares and boasts over 450 species of bird, as well as a wide variety of game, including white rhino, wildebeest and impala.  The cutest thing we came upon was a four days old fuzzy giraffe nipping leaves from a fever tree with her parents.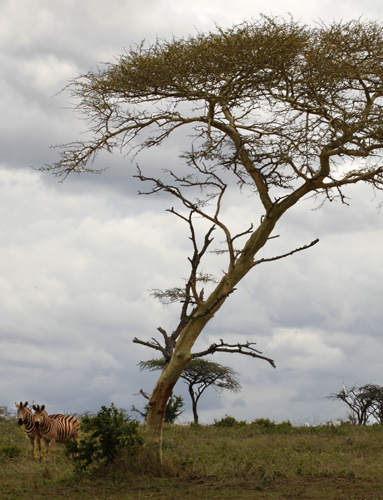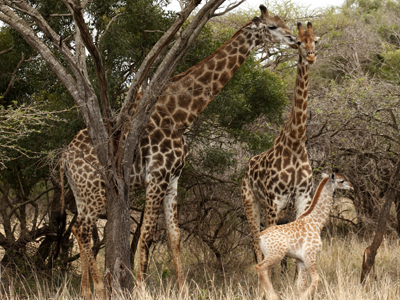 Ubizane offered an intimate and tranquil base from which to explore this unique and diverse corner or South Africa. 
After two days of safaris we were ready to jump back into the water.  We flew across the country for an opportunity to dive with great white sharks.  I love nothing more than sharks and was thrilled to be in the water with these magnificent creatures.
Read Part 2 of our South Africa adventure here next with great white sharks and safaris in the Kruger National Park
The amount of activities and providers in South Africa were overwhelming. I suggest everyone planning on visiting the region to do a lot of research prior to their trip as it is only so much one can fit in one vacation. Our journey was put together by Sonja at Africa Tour. She did a great job at picking out the highlights of each region, mixing wilderness and convenience, city and safari, scuba and land based activities.
We spent a magical month traveling through South Africa. Check out some photos here
Written by Szilvia Gogh, California. Photo Credit: Szilvia Gogh