Journey of Strength: How scuba diving helped me heal from breast cancer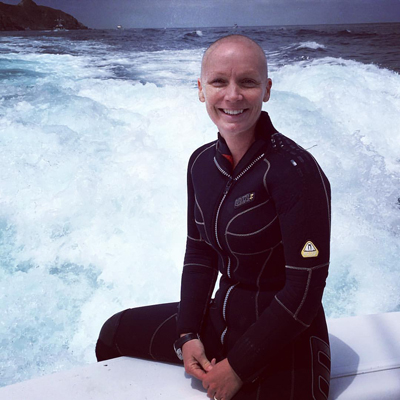 I did not choose to have breast cancer. However, the choice I do have is how to go through my journey.
I could have been depressed when hearing the news. After all, I had a horrible year leading up to my diagnosis. All in one year: My grandmother died of old age (that I can accept). My mother went through treatment, yet died from breast cancer. My first cousin died at age 39 of breast cancer. Now, I have cancer at the age of 39.
While I could ask myself, "Why Me," after all—I eat organic; I exercise every day. But I could also simply consider what I needed to do to take action.
I chose to look at the positive side of everything from the past year. For example, my grandma was 97 and she had a beautiful life. My mom was 67; she saw my sister and me grow up. She was with me when my son was born two years ago, and she was gifted with a granddaughter last summer from my sister.
Fortunately, my own cancer was detected early. The only reason I even got a mammogram was because I was advised to do so after my mother was diagnosed with breast cancer.
After my first mammogram in 2015, everything was clear. I didn't feel a lump or any other signs, but in January 2016, after my routine check-up, I was called back for a follow-up ultrasound. Then I had a biopsy the day before I flew to Europe to see my mother one last time as she was losing her battle with cancer. In only one year, the cancer had spread to her lymph nodes, liver, and pretty much everywhere else in her body, despite all treatments the doctors tried.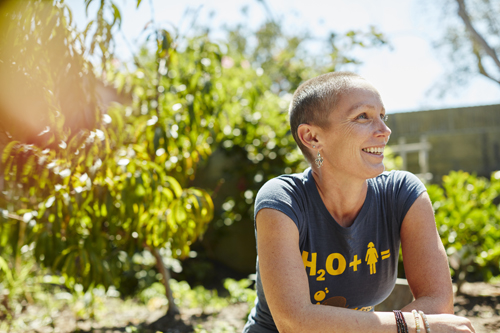 As soon as I landed in Budapest, Hungary, I called the doctor who performed my biopsy, and given my circumstances, she made an exception to her usual policy and promised to give me the results on the phone.
Even before we spoke on the phone, I had a feeling. Deep inside I knew that she would say that the biopsy showed cancer. I was afraid that I would not see my son grow up.
Then, I shook myself, took a deep breath and said to myself, "Let's do this!" Whatever I need to do, I will. I will see my son grow up. I have unfinished businesses here. It's not my time to go.
After the initial shock of hearing the news that I did, in fact, have breast cancer, I knew I needed to come up with a plan. Yet there I was, with my mother who was in a hospital. Her lungs had filled with fluid and her liver was failing. Yet she and I had two days together; she was so happy to see me we even took a short walk through the hospital garden that first day.
The second day, I had to push her in a wheelchair. When I left, I felt horrible; I knew that I would not see her again. But my experience with family members taught me that time was of the essence in my own case. So we said our heartfelt good-byes and I flew back to LA.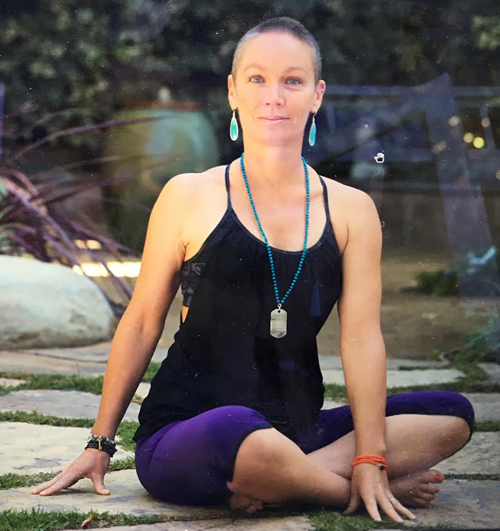 During my 11-hour return flight from London to LA, I reflected on my life: I have been making inspirational jewelry for years, and now I needed that inspiration to buoy myself up. One of my favorite inspira tional affirmations—and one that I use in many of my jewelry designs— is: "Never, Never, Never Give Up!" Winston Churchill said this more than 70 years ago.
Yes, I reflected, that sentiment is a good place to start. As soon as my boots touched the ground at LAX, I headed to meet my oncologist. He said he had bad news and good news. My answer was, "I already know I have cancer, so give me the good news."
Here was the good news: My strain of cancer responds well to hormone therapy and at the time of diagnosis it was Stage 1 (since the largest of my three tumors was only 19mm and the cancer had not spread beyond the initial tumor).
After meeting with a few surgeons, I made a decision that I felt comfortable with and I decided to move forward with a double mastectomy even before I would learn that my cancer had a genetic component (from my father's side). This surgery allowed me to avoid recommended radiation—and I would be able to get a nice "boob job" out of it.
Even though they removed the cancer during the surgery and it had not spread to my lymph nodes, my doctor did recommend chemotherapy based on the tumor type testing which revealed that my cancer is one of the most aggressive types. By the time of my operation, just one month after my diagnosis, my tumor had already grown to 24mm, progressing it into Stage 2 (which meant that is was locally advanced).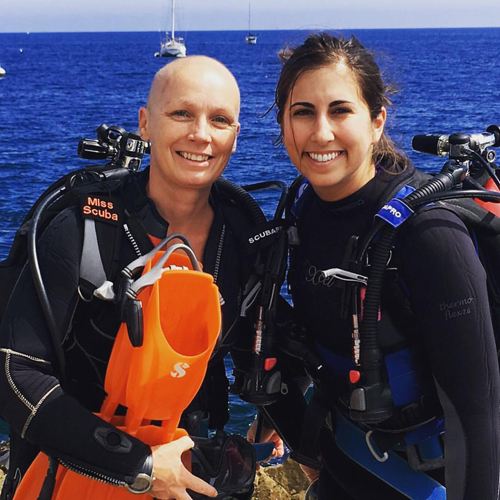 I don't know any other way to say it, but overall, chemotherapy was not fun. Although there were many challenges, one of the things that hit me hardest was losing my hair. After all, looking in the mirror every day is a constant reminder— and as a stuntwoman and scuba teacher, I work with people all the time so my look is obvious.
Yet, when I considered my options, I decided to be bold and be bald since the lifestyle of a scuba diver does not easily lend itself to wigs. Most importantly, however, I did not want to pretend that everything was normal.
Over the past few months, I have had good days and bad days. On every good day, I made a point of going outside for a walk, practicing yoga, and eating well. On every bad day I reminded myself that this is only temporary.
To lift my spirits, I would remind myself that my cancer was detected early and I am on my way to recovery. To support my recovery, I watched movies and slept a lot to give myself time to rest. The presence and loving care of my husband, son, and friends gave me the strength to feel better on good days, and gave me hope that that I will be better on bad days.
I'm still on my journey at this time, but I feel that I am over the hump. To celebrate, a week after my final chemotherapy treatment, I organized a girls' day on Catalina Island. We practiced yoga, went scuba diving, and shared a chocolate circle. I believe that it is important to have things to look forward to when going through challenging experiences. As I write this, we (my husband, my son, and I) are in Ireland on a castle tour celebrating my 40th birthday.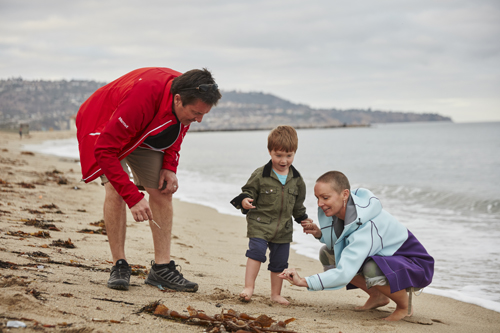 This birthday means a lot to me as I am glad to be done with 39. The age 39 in my family is like 27 for musicians - my father died at age 39 from cancer; my cousin died at 39 from cancer last year; and I was diagnosed with cancer when I was 39.
At this time, I'm also preparing for reconstructive surgery that requires several weeks of recovery. We are planning to celebrate my new bikini body and my re-grown hair with a scuba dive trip to the Maldives at the end of the year.

I could feel sorry for myself, and my family, for what we have had to go through, but I choose to feel grateful. Cancer brought us closer together and made us stronger.
Written by Szilvia Gogh, California. Photos by Daniel Tayenaka. Yoga Photo by David Young-Wolff.
_____________________________________________________


10 TIPS TO SUPPORT PEOPLE WITH CANCER: In my own cancer journey, I found that the support from family and friends was invaluable. We all want to be that supportive person, yet there are times when we may not know what to do or say. Here are some suggestions informed by my own experience that I would like to share. If you have friends, family members, co-workers, or community members with cancer, one of these tips might just make their day.

1. Offer specific things you can help with, such as taking the dog for a walk, picking up kids from school, or dropping off groceries. Saying, "Call me if you need anything," doesn't give your friend enough direction as to how you can help. Someone with cancer may be feeling overwhelmed and may not know how to say what they need.
2. Along those lines, remind her to BREATHE. When a person is diagnosed with cancer, it's hard to think straight. Millions of thoughts zigzagged through my mind.
3. Encourage him to seek out a second opinion and maybe even a third! Sometimes they might not agree, but opinions offer choices.
4. Show up for a visit in person. Don't just call. It means a lot.
5. Go for a walk together - short or long, depending how he feels. Fresh air does great things to the body and mind.
6. Bring over your friend's favorite foods to provide comfort and to tempt the palate. Eating is hard after chemotherapy.
7. Deliver soups. One of the side effects of most pain medications and chemotherapy drugs is constipation. Lack of exercise makes it even worse. Soup is a remedy to help get things moving and encourage proper hydration.
8. Tell her about the Look Good, Feel Better program: lookgoodfeelbetter.org. It is a free beauty workshop for cancer patients. This program taught me how to make eyebrows when mine fell out during chemo, among other things. As part of the event, people received a personalized bag with the make-up that we would need, all donated by cosmetic companies.
9. Offer to drive to a doctor's visit, test, or chemotherapy treatment. Some facilities even allow friends to stay and hang out during treatment. Bring books, jokes, music, headphones, eye pillows, warm socks, or other comfort items your friend may have forgotten to pack.
10. Be there even months after the treatment. Everybody comes out of the woodwork when their friend becomes sick and reaches out. However, cancer treatment is a long journey and individuals and families need support months later as well.